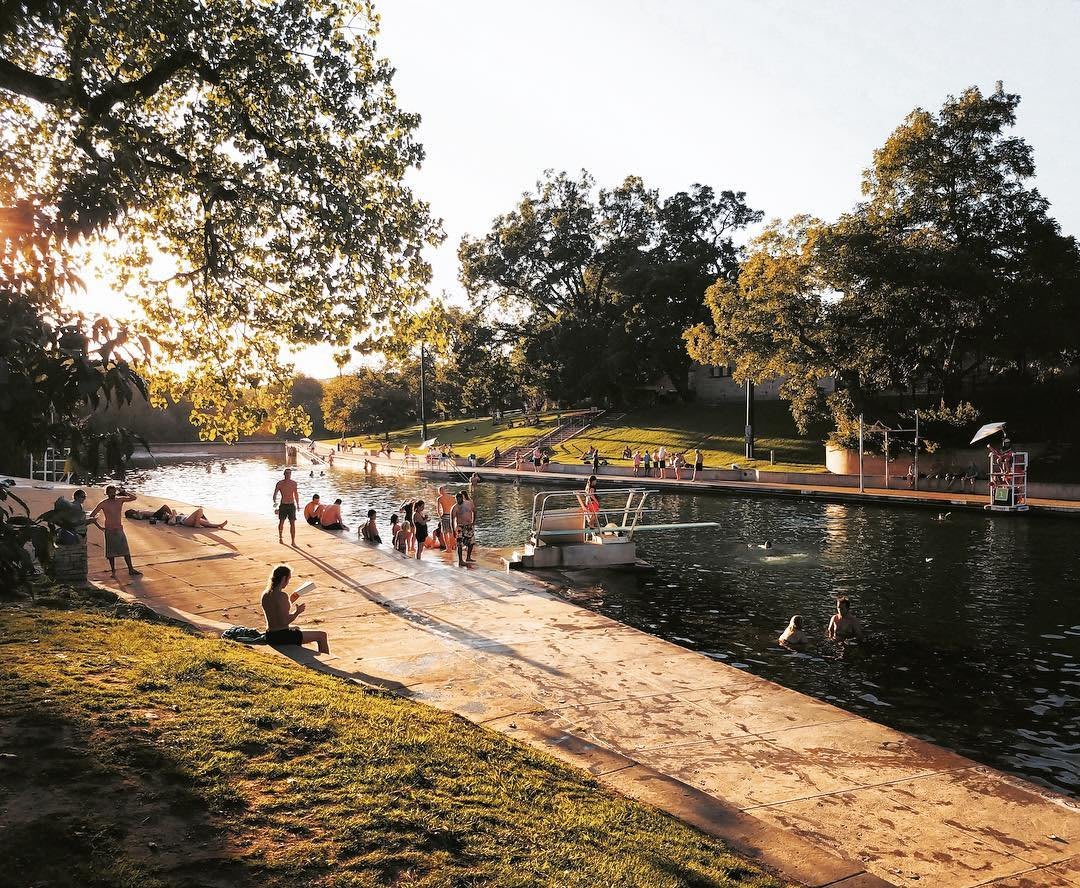 The jump to Austin from SoCal half a decade ago brought a slew of surprises we hadn't considered. We transitioned our lives, careers, and two little girls, ages three and four into the suburbs of Austin, TX, and weren't sure what to expect. The good news is the surprises were all positive and contributed to a life we didn't even know we were missing. On the flip side, the things we thought we'd miss, we haven't batted a southern eyelash at. For example, you wouldn't think a lake could replace an ocean (and surely it can't) but a hike or run around Lady Bird Lake, a surf lesson off the back of a speed boat, watching your littles scream in glee while raft skimming and a restaurant crawl on Lake Travis can sure come in as a close second. The thing with the Pacific is that it's cold and in NorCal (lived there too), it's windy and rocky, making the beach not nearly as user-friendly as the lakes here in Austin, TX.
User. Friendly. The two words kind of sum it up. This town is user-friendly. You actually do all the cool stuff there is to do because you're not so darned stressed out about keeping up with the Kardashians. The Kardashians are not a thing here. Their influence doesn't have nearly the impact. And please understand I'm using them metaphorically.
After thirteen years in SoCal / Los Angeles (twenty for my hubby) and almost three in Napa, I feel solid about saying I put my time in. There's something to say for peeling the back-of-the-brain-fear of the imminent earthquake, flood, and fire disasters off your neural pathways. I didn't realize this was as much weight as it was until we left. Just a few weeks after the move I became aware of a new lightness and when I asked myself why the instant answer was - no impending doom on the horizon here.
But that's not all. There's so much more. And I must add that we didn't leave LA on the highest note. I was letting go of a decade-long business I'd poured my heart into. We had two girls, two dogs, and four businesses. My business was stressing our life in a big way. What do they say? The number one mistake small businesses make is growing too quickly. I was a perfect statistic. My eighteen-month-old was wondering when the new baby was leaving and my new business was demanding attention I didn't have to give. We needed more space. Our townhouse was smashed between two others. When we cracked a bottle of wine or chopped onion, we'd wave to our neighbors in their kitchen doing the same. More space was going to cost us. Better get to work!
It was a pressure cooker and we were either going to implode or make a change. We chose to stand by our motto of family first and hiked it to Austin. We closed up shop. Literally. Said goodbye to lots of people but few dear friends and headed South.
The following list sums up what we love most about Austin:
Friendly neighbors
Morning runs on Ladybird Lake
Family affordable Restaurants (with parks attached for the little ones to play while you have a conversation)
Sexy date night restaurants (and new ones all the time)
Beautiful green Hill Country
Backyard BBQ's on a regular basis
Seasons! (kinda… just enough of them)
WAY less traffic. Don't believe the hype, they've never been on the 405.
Real Estate prices
A progressive, open-minded culture.


As I already said, there's so much. And each of these items could be an article in itself and just might be, so stay tuned. If you're thinking of making the move, feel free
to touch base
. As you can see I'm an advocate for this town, a realtor, and just someone who now has the time to care.